Have you been thinking about getting your nipples pierced? Getting a nipple piercing can spark a lot of questions!
How old do I need to be to get a nipple piercing?
In most parts of Australia you must be over the age of 18 to get your nipples pierced as this type of piercing is considered to be an intimate piercing. You must also sign a consent form (no matter how old you are) and present your Photo Identification on the day of the piercing.
New South Wales is the only exception, you can get your nipples pierced if you are over 16 and provide Photo Identification.
Do nipple piercings hurt?
Some people can find nipple piercings slightly more painful than other areas due to the fact that nipples are a more sensitive area. However, there are times during the month that your nipples will be less sensitive than other times. This is true more for females than males however the piercing is over in seconds – it's nothing you can't handle! Everyone is different and if you are in tune with your body you can pick a time when you are feeling less sensitive. Your piercer will help you to relax, breathe and think about how much you will love your new nipple piercings!
Beyond that, you can expect your nipples to be a bit tender for the first few days after your piercing.  As long as you're practicing proper aftercare and being careful when showering and removing clothing, the overall sensation afterwards is positive, most clients report positive and enhanced sensation in their nipples after piercing.
What if I'm embarrassed?
Feeling a bit shy about exposing your nipples to a stranger? That is completely normal! Try to remember that your piercer is a professional, our staff have seen thousands of nipples of all shapes and sizes. Your piercer will do everything they can to make you feel as comfortable as possible throughout the experience.
Should I wear a bra when getting my nipple pierced?
A little bit of bleeding and discharge directly after and during the healing process is normal. We recommend placing a breathable Band-Aid on the area directly afterwards to prevent bras or clothing sticking to your piercing.  For women, wearing a bra will actually feel better to you, and you might even want to sleep with a sports bra or crop top as there will be less friction. Make sure you wear a bra made of breathable fabric to keep the piercing dry. Guys, try not to wear tight fitting shirts unless you wear a Band-Aid over the piercing. Once a healthy scab forms, stop wearing your band aid but make sure  to wash your bras frequently and wear clean shirt to keep your piercing as clean as possible.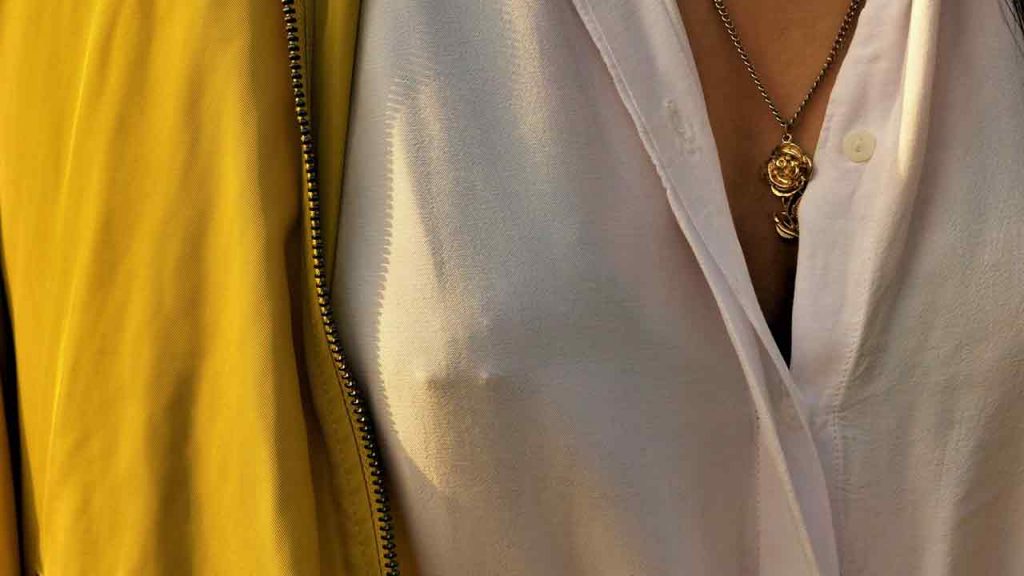 Nipple Shapes
If your nipples are inverted, or flat, we would recommend calling your local salon to schedule a piercing consultation. We pierce nipples of all shapes and sizes!
If you are getting a double nipple piercing, your piercer will help you consider the best position for your jewellery based on how your each of your nipples and breasts differ. It is normal to have different sized breasts and nipples, for example one nipple may sit higher on one breast. Your piercer will work with you and do their best to create piercings that are as symmetrical as possible.
How long do nipple piercings take to heal?
You never notice how much rubbing and squishing your nipples undergo every day until you have them pierced! Healing takes approximately 4-6 months and will be dependent on how well you look after them, you will be able to remove your jewellery for a short amount of time at this point, which will most likely be to change out your jewellery. You must keep some form of jewellery in the piercing for up to 12 months to allow a proper channel of outer skin to be formed. Healing is a very individual process so to be sure, keep some form of jewellery in the nipple so your piercing doesn't close over.
How do I look after my nipple piercing?
Do not rotate or play with your jewellery.
Do not pick any crust off your piercing – If you remove natures protective scab, bacteria may enter the piercing which leads to infection.
Avoid touching the area.
Avoid swimming for the first two weeks after a piercing. If you must go swimming, we recommend covering your piercing with a waterproof Band-Aid and after exiting the water, remove the Band-Aid and spray with Sterilear Step 1.
Avoid using personal care products on or around the piercing including makeup, body lotion and perfumes. We do not recommend using the following products or ingredients on piercings either: Dettol, Betadine, hydrogen peroxide, disinfectants, soaps, tea tree oil and alcohol to clean your piercing. These products can overly dry out, irritate and burn the pierced area.
Use our 2 Step Sterilear Piercing Spray system to keep your nipple piercings clean and free of any bacteria and enhance healing.
Do keep your sheets, bras and clothing clean. Bacteria can all be transferred from bedding and get inside your fresh piercings. Make sure your sheets are cleaned and changed quite frequently to prevent any problems.
Avoid unnecessary trauma to your piercing such as friction from clothing, towels, loofahs, excessive motion of the area, playing with the jewellery, knocking the piercing, and over cleaning.
Will my nipples stay hard?
You might have heard that your nipples can become permanently erect after a nipple piercing but this doesn't always happen. If you have flat or inverted nipples, piercing them can help push them out a little bit, but that doesn't mean they will always stand erect.
Do nipple piercings affect breastfeeding?
In most cases, nipple piercings don't cause problems with breastfeeding. If you're expecting, you'll have to decide what works best for you: removing the nipple jewellery altogether for the duration of your pregnancy and breastfeeding, or removing it only for feeding sessions.
If you leave your jewellery out, the piercing may close, Whether the piercing will close or not is a very individual thing. It can be dependent on how long the piercing was established prior to removing the jewellery and generally how your own bodies repair system works on weather the piercing will close or not, it is a very individual thing. You'd simply repierce when you're ready, as long as at least six weeks have passed since you last breastfed. For many mothers, this is the simplest and most popular choice.
Will a piercing make my nipple more sensitive?
Most people say that piercing makes their nipples more sensitive, particularly when the nipples become erect.
Friction form the jewellery around the nipple can cause more of a sensation. Tight fitting clothing also contributes to overall sensations plus nipple piercings look sexy under tight shirts.
Of course, you have to live with the fact that your nipples will be out of action while they heal. Tell your partner to keep their hands and mouth off for at least 4 months. Germs and bacteria can enter the piercing, cause a painful infection and prolong healing.
Should you get your nipples pierced?
Yes, yes and yes! Our clients love their nipple piercings and the whole piercing journey is worth it in the end! Nipple piercings are one of our most popular services. Nipple piercings are a cute, sexy and fashionable way to add something different to your piercing collection. If you have more questions about getting your nipples pierced call or visit your local salon to discussed with one of our experienced body piercers.
Book online or download the Essential Beauty Australia App today!