School Holidays are a great time to get your child's ears pierced. The long break allows time for the piercings to heal before they return to school. Essential Beauty specialises in Children's Double Operator Ear Piercing from babies to teens.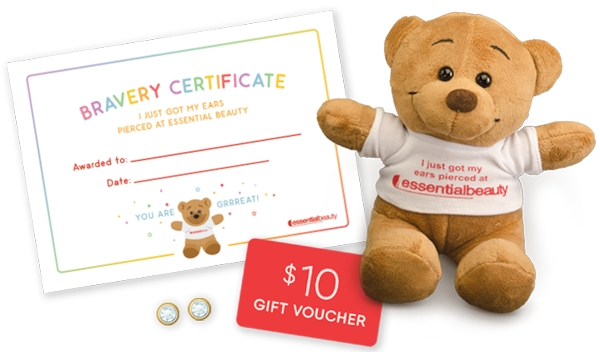 During this procedure we pierce both of your child's ears at the same time using two Piercing Specialists using our Contactless Sterilear System.
This makes a fuss free and quick procedure so you and your child are free to go about your day.
If you are under 16 in Australia (excluding QLD), a child is required to be accompanied by a parent or legal guardian when getting their ears pierced. The parent or legal guardian must be present at the piercing and are required to display their photo identification and a Medicare Card to connect the parent with the child.
For babies, we recommend waiting until your baby is at least 6 weeks old before getting their ears pierced. However, it does depend on the shape and size of your baby's ears. If you are unsure if your child's ears are ready to be pierced, we recommend asking one of our experienced staff in salon.
Before your appointment:
Have an idea about the colour of your jewellery you and your child want. The most popular Swarovski crystals are Aquamarine (light blue), crystal (clear Swarovski) and Amethyst (purple).
Many parents bring along their child's favourite toy, treat or other distraction. Others promise their child a reward afterwards such as an ice cream! Remember though, your child will also receive their free comfort teddy to cuddle.
When you arrive for your appointment there is some paperwork to fill out and you will be asked to present the identification mentioned above.
Pay for the procedure, collect the Sterilear aftercare sprays step 1 & 2 and listen to your Piercer explain the aftercare instructions. You can also find detailed instructions here on how to look after your child's piercing at home. Remember, it is important that you and your child do not touch the area at all or rotate the jewellery.
You will then select the jewellery and head into the private piercing room.
During the procedure:
Your child will be given their own Ted the Comfort Bear to distract them.
Your Piercer will place dots on your child's ears so that you can agree on the location of the ear piercing. Both piercers will then pierce both of the child's ears simultaneously and give them a Bravery Certificate!
To book your child's ear piercing please call your local salon.